Ridge Girl's Place 2nd in Group 4!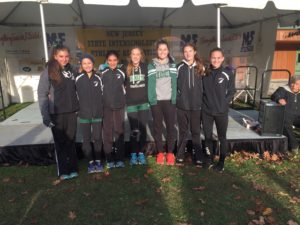 Led by Sophomore Manon Stephen the Girl's team placed 2nd in Group 4.  This made them an automatic qualifier for next week's Meet of Champions at Holmdel Park.  In the last 4 years the girl's have placed in the top 2 each time.  They will enter next weeks meet as the second overall team in the state based on the merged results from all group races.  Ridge has been the top finisher in the last 2 MOC races and has medaled (Top 6) in 8 of the last 10 years.
Manon moves in to the 5th spot on the Top 10 All time list for Ridge at the Holmdel course.  That was her first time ever racing a 5k at Holmdel.